Bee City & Bee Campus USA Virtual Affiliate Meetup: Great Lakes Region
July 18 @ 12:00 pm

-

1:00 pm

EDT

Free
Join Xerces Society's Stefanie Steele, Pollinator Conservation Specialist for Urban and Small Farms in Underserved Communities and NRCS Partner Biologist, and Micah Kloppenburg, Wisconsin Pollinator Conservation Specialist for a short presentation on Great Lakes pollinator conservation activities, followed by an extended Q&A and group discussion with Stefanie, Micah, and Bee City and Bee Campus USA National Coordinator Laura Rost. This is an opportunity to share your successes, ask for advice, and connect with your fellow affiliate cities and campuses.
Feel free to join us if you are a Bee City or Bee Campus affiliate in Illinois, Indiana, Michigan, Minnesota, New York, Ohio, Pennsylvania, or Wisconsin. More regional meetings to come!
This free Bee City USA webinar is hosted by Xerces Society and will be recorded and available on our YouTube channel on the Bee City USA playlist. Auto-generated Closed Captioning will be available during this webinar.
Stefanie Steele
Pollinator Conservation Specialist for Urban and Small Farms in Underserved Communities and NRCS Partner Biologist
The Xerces Society

Stefanie is the Pollinator Conservation Specialist for Urban and Small Farms in Underserved Communities and a NRCS Partner Biologist in the Upper Midwest – Detroit, Michigan area. Through this work, she provides technical assistance, planning, and education on incorporating pollinator and other beneficial invertebrate habitat in small urban agricultural areas and community gardens in historically excluded communities. Her work supports projects including the Xerces Habitat Kit Program, People's Garden Initiative, and NRCS Conservation Programs through the USDA Farm Bill.
Stefanie received a master's degree in biology from Portland State University where she studied the nesting habits of cavity nesting bees and wasps in the Portland, OR area and completed a multi-year study surveying the solitary bees in Portland's urban core and their floral use. Since graduating, she has worked on numerous research projects studying diverse bee communities, and she has a deep knowledge of the taxonomy and ecology of native bees. While in Portland, OR, Stefanie worked with several urban gardens, orchards, farms, and restoration areas to help incorporate pollinator habitat in these spaces. Originally from Cincinnati, OH, Stefanie has a strong knowledge of the Upper Midwest local plant communities and is excited to be back working with urban communities in the Midwest.
Micah Kloppenburg
Wisconsin Pollinator Conservation Specialist
The Xerces Society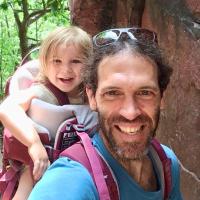 As the Wisconsin Pollinator Conservation Specialist, Micah provides technical assistance to agricultural producers, land stewards, and community groups interested in creating and protecting pollinator habitat. Previously, Micah worked as an ecologist for a WI non-profit where he supported land owners in achieving their habitat protection and restoration goals; and, for a county parks department where he developed and led creative conservation activities and programming for youth and community groups. Micah holds a Master's degree in restoration ecology from the University of Wisconsin-Madison, where he studied plant community change in remnant hillside prairies in the Driftless region. He enjoys canoeing, dabbling in jewelry metal art, and growing as many onions and garlic as he and his family can fit in their small garden.